Thomas Lawrence (1769-1830), Elizabeth Farren
Metropolitan Museum of Art, New York
Thomas Lawrence: Regency Power and Brilliance
National Portrait Gallery, London
until 23rd January 2011
Thomas Lawrence was the greatest British portrait painter of his generation and one of the most celebrated artists in Europe in the early decades of the nineteenth century. This exhibition, the first in the UK for over thirty years, presents fifty-four works drawn from international public and private collections, some never before seen in public. A key figure in the history of British art,the exhibition provides a fresh understanding of Lawrence's career, exploring his astounding technical innovations, dazzling brushwork and bold use of colour through his greatest paintings and drawings. Stunning early works such as the beautiful full-length painting of actress Elizabeth Farren and the striking Arthur Atherley, are shown alongside majestic and powerful portraits of international statesmen, society figures, military leaders and royalty, created at the height of his fame, such as Pope Pius VII, Princess Sophia and the Earl of Aberdeen.
Lady Elizabeth Conyngham
Museu Calouste Gulbenkian, Lisbon
Thomas Lawrence took the London art world by storm at the Royal Academy exhibition of 1790. Although virtually unknown, this precocious 21-year-old artist dazzled audiences with his daring full-length portraits of Queen Charlotte and the actress, Elizabeth Farren. Their frankness, vivacity and delight in textures and detail departed from the overblown allegories of
Grand Manner
portraiture. The critics proclaimed Lawrence the rival and successor to Sir Joshua Reynolds, the founding President of the Academy.
Mary Hamilton
British Museum, London
Britain's victory in the Napoleonic Wars in 1815 enabled Lawrence to achieve the greatest international reputation of any British artist. Commissioned by the Prince Regent, Lawrence travelled across Europe painting a series of monumental portraits of the sovereigns and military leaders who were allied in the defeat of Napoleon. These epoch capturing portraits, which hang together in the Waterloo Chamber at Windsor Castle, ensured Lawrence's status and influence abroad.
Lady Selina Meade
Private collection
Knighted for his role as the prince's artistic envoy, Lawrence began the series in London in 1814 and left for the Continent in 1818. In Vienna, he painted Charles, Archduke of Austria, enjoyed the glittering social life of the aristocracy and undertook private commissions such as Selina Meade. Just as he was preparing to return, the prince ordered him to paint the Pope. Lawrence's year in Rome was the apex of his artistic aspirations and his portrait of Pius VII was the crowning glory of his artistic mission.
Pope Pius VII
Royal Collection, Windsor
In the 1820s Lawrence achieved a growing reputation in France. He stayed in Paris in 1825 and exhibited works such as the famous
Charles William Lambton
at the Paris Salon. He earned the respect of none other than Delacroix, who, according to Richard Holmes in his essay on Lawrence, said that the artist knew how to paint women's eyes; he also was praised by Baudelaire, who set him at odds with the neo-classical school of Ingres and David.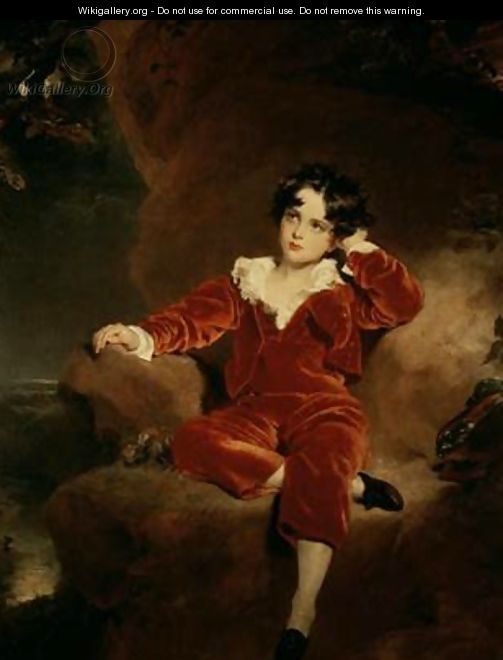 Master Charles William Lambton
Private collection
Margaret, Countess of Blessington
Wallace Collection, London
Thomas Lawrence: Regency Power and Brilliance
official exhibition site
Genius infected by Romance: Sir Thomas Lawrence at the NPG - article in
Art History Today