A major exhibiton of Canaletto and other 18th century Venetian view painters has just opened at the National Gallery in London. This exhibition presents the finest assembly of Venetian views since the much-celebrated display in Venice in 1967. It features works by Canaletto and all the major practitioners of the genre.
Remarkably, considering the dominant role of British patronage in this art form, 'Venice: Canaletto and His Rivals' is the first exhibition of its kind to be organised in the UK.
Bringing together around 60 major loans from public and private collections across Europe and North America, the exhibition highlights the rich variety of Venetian view painting.
"These paintings are still fulfilling the basic function for which they were created, and that's to remind people, when they are away from Venice, of the great marvellous experience of this city rising from the water," Dawson Carr, curator at the National Gallery, told AFP.
The London exhibition displays Canaletto's work alongside contemporaries such as Gaspare Vanvitelli, the founding father of Italian view painting, and Luca Carlevarijs, the first view painter to depend on foreign patronage. Also included are paintings by Michele Marieschi, Canaletto's nephew Bernardo Bellotto, and Francesco Guardi, who outlived Canaletto by 25 years.
Canaletto was the undisputed master of the genre, capturing "the grandeur of the place, a great city rising from the water, and the special light and atmosphere of Venice", said Carr. He added: "We of course all have digital cameras and we can snap, snap, snap but no matter how good the camera or the photographer, somehow a photograph just can't do what this kind of painting does."
The exhibition runs from October 13 to January 16, 2011.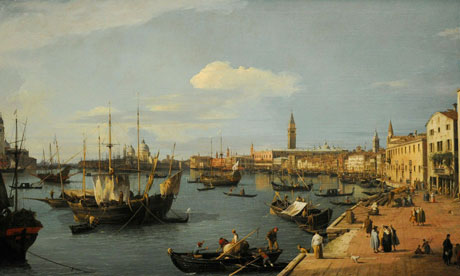 Useful links:-
A golden age of Venetian art
- review by Jackie Wullschlager in the Financial Times.
How Canaletto and the Venetian artists light up the National Gallery
- Jonathan Jones' blog in the Guardian.
Canaletto's Venice: a city for pleasure seekers
- article by Nick Trend in the Daily Telegraph.
Canaletto's Venice paintings
- small selection of 12 paintings in the Daily Telegraph.
Canaletto
at the Web Gallery of Art (large collection of paintings).
Guardi
at the Web Gallery of Art.
Bellotto
at the Web Gallery of Art.
Marieschi
at the Web Gallery of Art.
Carlevarijs
at the Web Gallery of Art.