Orazio Gentileschi (1563-1639), Young woman playing a violin
Institute of Arts, Detroit
Il Canto delle Dame - 17th century Italian women composers
Maria Cristina Kiehr - soprano
Concerto Soave
dir: Jean-Marc Aymes
recorded in the Abbey church, Ambronay 23rd-26th May 2010
released 21st October 2010
Ambronay Editions
(review by Jean-Christophe Pucek in
Passée des Arts
)
Just like their fellow painters, women composers have taken long to emerge from the shadows to which the picture of a predominantly masculine art have relegated them. For every Artemisia Gentileschi and Barbara Strozzi, now fairly well documented, how many other discoveries are yet to be made?
Il Canto delle Dame
, just released by Ambronay Editions, offers a selection of pieces composed by Italian women during the 17th century. In this recording we rediscover, under the direction of Jean-Marc Aymes, the soprano Maria Cristina Kiehr, whose taste is matched only by her talent, and the ensemble Concerto Soave.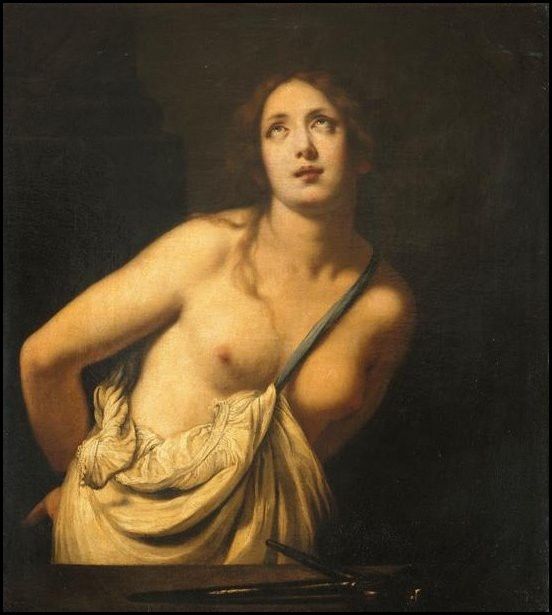 Felice Ficherelli (1603-1660), The Martyrdom of St Agatha
Private Collection
Let us at the outset put an old cliché to bed: just as in literature there exists no specifically feminine writing, so the idea of 'feminine' music is a chimera. The examples, among others, of Hildegard von Bingen (1098-1179), Elisabeth Jacquet de la Guerre (1665-1729), Alice Mary Smith (1839-1884) or Louise Farrenc (1804-1875), show clearly that women, albeit shunned by music academies and other institutions, have succeeded in creating works in no way weaker or 'gentler' than those of men, and even outdoing them in originality and invention. Long ignored by posterity, their voices are now beginning to be heard.
Il Canto delle Dame
perfectly illustrates this fact. The programme travels through the Italy of the 17th century, naturally highlighting the artistic effervescence of Renaissance environments where women played a central role, Mantua and Ferrara amongst others, where women were allowed to devote themselves to composing in conjunction with a career as a singer or a nun. Francesca Caccini (1587-1640), a Florentine, eldest daughter of the famous Giulio Caccini, one of the inventors of accompanied monody, had a brilliant career as a singer in the service of the Medicis. She was invited to France, published her
Primo libro delle musiche
in 1618, and in 1625 an opera,
La liberazione di Ruggiero
, the first work of its kind by a woman. These, her only surviving works, take forward the innovations of her father. Of Caterina Assandi, on the other hand, very little is known; only that she was originally from Pavia, was taught by Benedetto
Rè
, and spent her life as a nun in Lomella at the convent of St Agatha. In her creative period, dated between 1609 and 1618, she produced two books of motets of which only the
Motetti a due e tre voci
(1609) survive; in these modern features (madrigalisms, imitations, etc.) accompany more traditional elements. Barbara Strozzi (1619-1664), adopted daughter of the proliferous poet Giulio Strozzi, grew up in Rome where her musical education was overseen by Cavalli. Welcomed by the
Accademia degli Unisoni
, a group of musicians and intellectuals formed by her father, she published, between 1644 and 1664, eight collections of operatically-inspired music which reflect the artistic ideals of the refined circle she frequented, and for whom many of these works were undoubtedly written. Our journey ends in Novara, where we meet Isabella Leonarda (1620-1704), from a wealthy family, who entered the Ursuline convent in her birthplace in 1636, and ascended the rungs of the hierarchy to become Mother Superior in 1686. An accomplished musician, no doubt taught by Gasparo Casati, she left more than 200 compositions, the majority sacred music (motets, masses), but also secular works; her collection of sonatas (Opus 16), published in 1693, being the first ever published by a woman. In both forms, she shows a great formal freedom, admired by that passionate observer of the musical life of his age, the Frenchman Sébastien de Brossard (1655-1730).
Maria Cristina Kiehr
Maria Cristina Kiehr and Concerto Soave, comprised on this occasion of four remarkable female interpreters well acquantained with the demands of Baroque music, all under the direction of the keyboard player Jean-Marc Aymes, serve the works on this recording with the ease and empathy gained by assiduous and enlightened familiarity with the repertoire. From the first hearing, one has the impression of intimacy and warmth which allows the rhetoric that underlies these pieces to be fully and harmoniously developed. The sands of time have passed across the voice of Maria Cristina Kiehr, but what the soprano may have lost in agility (only slightly; her technique remains impressive), it has incontestably gained in sensuality and colour. How can one resist those warm, amber tones; luminous, caressing, envelopping? Combining with rare felicity dramatisation of emotion with subtlety of touch, her committment gives the right density to each piece of a selection judiciously divided between sacred and secular; here nothing is ponderous, everything is simply elegant and moving, as proven by, for example, Caterina Assandra's spiralling
Duo Seraphim
. The instrumentalists also are worthy of nothing but praise, whether for their ability to listen and their discipline when acccompanying or conversing with the voice, or their invention and flexibility in the instrumental pieces. We encounter with unmitigated pleasure the racy, feline violins of Amandine Beyer and Alba Roca, the fruity viola of Sylvie Mocquet, the crystalline illumination of Mara Galassi's harp, superb accompanist on
Lasciatemi qui solo
by Francesca Caccini. Jean-Marc Aymes's precise, attentive direction balances the musical forces with great intelligence and sensitivity, confirming, once again, his affinity with 17th century Italian music, of which he is an excellent servant, not only as director but also as a soloist, as demonstrated in his remarkably finessed harpsichord solo
Io mi distruggo
by Francesca Caccini.
The vibrant homage to female Italian composers that is
Il Canto delle Dame
impresses and succeeds; well conceived and supremely interpreted, driven by genuine intelligence and unquestionable love for the repertoire it documents. At a time when this music is too often disfigured by concoctions aimed at a section of the public without bearings, the integrity of this recording, its absence of cheap effects, are a delight, which I advise you to taste for yourselves.
(Translation: A Curran)
Assandra
:
Duo Seraphim
Canzon a 4 (Benedetto Rè)
O quam suavis
O salutaris hostia
Buono
:
Canone sopra l'Ave Maris stella
Caccini:
Chi è costei, Maria, dolce Maria
Io mi distruggo
Lasciatemi qui solo
Leonarda
:
Ave suavis dilectio, Op. 6
Sonata VII a tre
Strozzi
:
Hor che Apollo è a Theti in seno,
Arie a voce sola, Op. 8